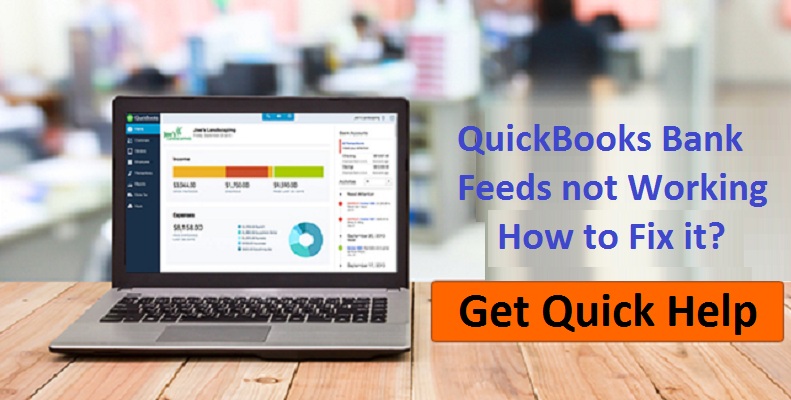 Among all other features, bank feeds are a real asset that automatically updates the recent bank transactions in QuickBooks, when the user connects the bank and credit card account. Bank feeds also help the users match the bank database with QuickBooks, and if it finds any flaws, it starts to create a new record. Like any other issue, you might face QuickBooks Bank feeds not working, which ultimately creates trouble because then your QB account will not be updated automatically with the recent transactions.
Why QuickBooks Bank Feeds not Working?
QuickBooks bank feeds are a smart system that can automatically retrieve transactions for 90 days. Although to download more, you need to take help WebConnect.
While the QB bank feeds error could occur due to a couple of reasons. A few of them, which plays a pivotal role in occurrence are:
It may be due to retrieving transactions older than 90 days.
Syncing issues between your bank account and QuickBooks.
Also, QuickBooks not supporting a particular bank account could be an issue.
Steps to Fix QuickBooks Bank Feeds not Working?
Follow these steps to fix the bank feeds issue. Please do not jump the steps; you might leave something vital to correct an error.
Method 1: Clear Cache Files to Fix Bank Feeds
Firstly you need to check that there are no alert notifications in your bank account and then clear the cache files by following the below steps:
On your computer, go to the bank website.
Now login with your username and password.
Further, go to the transactions
Now make sure there are no pending alert notifications for any action.
If you find any notification message, then act upon it and move further.
And then log out of your bank account.
To proceed, open the browser on your computer.
And locate the browser history and cache files.
And delete all of them.
Now try to open the bank feeds in QuickBooks, still if it creates trouble, then move to the next step.
Method 2: Open QuickBooks in the Incognito window
Sometimes the bank feeds not working in QuickBooks issue occurs due to a problem with your browser. You can try to switch it to an alternate browser by operating in Incognito mode.
If you are using the Safari browser, then click File.
And then click New Private Window.
If you are working on the Chrome browser, then click File.
And then go to New Incognito Window.
Try logging in to your QB account.
Now your bank feed should update in QuickBooks, if it doesn't, proceed to step 3.
Method 3: Update the Bank sign-in details in QuickBooks
At times the users change their bank account password but forget to update it in the QB account, which results in QuickBooks 2020 Bank Feeds not Working issue.
For smooth operation, you need to match the login details in the QB and Bank account by following the steps given below.
Open your QuickBooks account on your computer.
Now you need to navigate to the Banking
Now click the Banking
Further, you need to select the affected bank account.
Click Edit adjacent to the bank account.
Now click Edit Sign in info.
Update the bank account Username and Password in the desired field.
Then click Update Sign-in info
Instantaneously after updating, you'll see a pop-up "Credentials Have Been Updated."
And then click, "I Am Done."
Now check the QuickBooks Bank feeds not working issue is resolved; if the problem persists, you will need to disconnect and reconnect the bank account with QuickBooks.
Method 4: Disconnect and Reconnect the bank account
Doing this process with resetting the bank account in QuickBooks and sorting out the trouble opening the bank feeds.
Disconnect the bank account
Open the QuickBooks software.
Then locate the banking menu and click the Banking
Now choose the bank account facing an error.
Click Edit adjacent to the bank name.
Now click Edit Account Info.
After that ✔mark, Disconnect this account, and then click Save > Close.
 The next step is to reconnect the bank account in the QB application to fix QuickBooks Bank feeds, not working issue.
Log in to your bank account on your computer.
Now just after login, you need to copy the web address from the top.
Now open the QuickBooks application and then navigate to Banking> Add account.
Now paste the web address on "Enter Your Bank Name or URL Box."
Click Ok.
Now try to open the bank feeds in QuickBooks again.
Method 5: Update QuickBooks
Open your existing QuickBooks application.
Now click the Help
Then select Update QuickBooks and click Yes on automatic updates.
Click Save> Close.
Conclusion
Hopefully, these steps would have resolved the QuickBooks bank feeds not working error. Most users face this problem because they forget to update bank details in their QuickBooks accounts.
Further, you can also try to disconnect and then reconnect the bank account in your QuickBooks software.
If you cannot fix this issue, consider contacting our QuickBooks Help Number, we have experts who will diagnose and suggest tips to you. Please do not wait, call us now.